Tobacco Use Prevention Education (TUPE)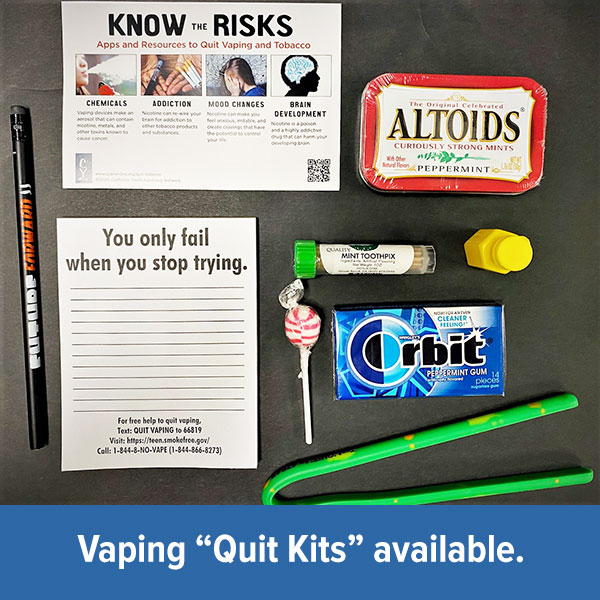 Tobacco Use Prevention Education (TUPE) is a state-funded program in California, meant to reduce tobacco use among young people and educate them about the dangers of tobacco use—including new products aimed directly at them. Through instruction and educational activities, students gain social skills and knowledge that will help them avoid these risks.
In Sacramento County, TUPE also provides technical assistance to school districts to develop effective tobacco education programs. Local work is overseen by the Prevention & Early Intervention Department at the Sacramento County Office of Education (SCOE), which provides technical assistance and training for educators and community members.
TUPE, funded by the 1988 Proposition 99 and 2017 Proposition 56 tobacco taxes, also provides intervention and cessation services to youth who are currently using tobacco products.
Vaping (E-Cigarettes)
Vaping has been the most commonly used tobacco product among youth since 2014. The Effects and Dangers of Vaping, a video produced by the Sacramento County Coalition for Youth, highlights the dangers and effects of using e-cigarettes. It features an interview with a doctor and his patient, who is a personal trainer and a former military service member. SCOE has also produced a public service announcement video to remind families how important it is to watch for signs that teens are vaping.
Common signs that teens may be vaping include:
Moody and jittery behavior—nicotine cravings and withdrawals severely affect mood and behavior
Difficulty paying attention or staying focused—vaping can affect concentration and memory
Decreased ability to communicate—distracted with a desire to vape and lack of ability to concentrate
Consuming excessive amounts of water—vaping can cause "dry mouth" and cause users to be hydrated
Fruity smells without an obvious source—vaping can have a fruity smell even if there is no smoke
Decrease in normal activities—money spent on vaping means less money for their usual activities
Excessive spending—funding a vaping habit takes a financial toll
Mysterious "disappearances"—leaving the room to vape
Possessing an abundance of USB drives and/or asthma inhalers—vaping devices can be disguised as USB drives or look similar to inhalers
Vaping "Quit Kits" are available from SCOE in English and Spanish to help support people who are trying to quit vaping. Email ocontrerasgonzalez@scoe.net for information.
For more information, download an e-cigarettes tip sheet from the Office of the Surgeon General, or get quick facts about e-cigarettes from the CDC.
Additional Resources
TUPE Services Offered in Sacramento County
Workshops for students on tobacco prevention and advocacy—request a presentation for your school or organization
Tobacco-free school certifications
California Healthy Kids Survey (CHKS) administrations and data sharing training
Grant writing support
Technical assistance to districts preparing applications for grades 6–12 funding
Current research on adolescent alcohol, tobacco, and other drug (ATOD) use, as well as effective intervention strategies
Increasing student awareness of the dangers of tobacco
Countywide training coordination
Guidance in meeting program compliance requirements
TUPE Grantees in Sacramento County
Tier 1: Arcohe Union SD, Galt Joint Union Elementary SD
Tier 2: Elk Grove USD, Folsom Cordova USD, Sacramento City USD, San Juan USD, Twin Rivers USD