SCOE Initiative Overviews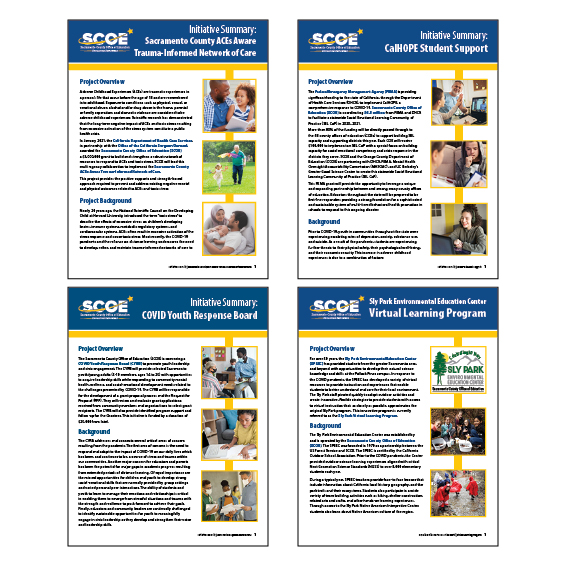 The following overview documents highlight Sacramento County Office of Education (SCOE) projects developed to serve students and families locally, regionally, and statewide. The documents were created for presentation to the Sacramento County Board of Education and are shared here for informational purposes.
ACEs Aware Trauma-Informed "Network of Care"
Part of a larger, $30.8 million statewide project, SCOE will lead a local group of agencies to implement the Sacramento County ACEs Aware Trauma-Informed "Network of Care." Adverse Childhood Experiences (ACEs) are traumatic experiences in a person's life that occur before the age of 18 but are remembered into adulthood—things like physical, sexual, or emotional abuse; alcohol/drug abuse in the home; parental or family separation; and domestic violence. The collaborative project is expected to create a screening, referral, and response process to support families in mitigating toxic stress and preventing further ACEs.
CalHOPE Student Support
SCOE is coordinating a statewide group, made up primarily of county offices of education, focused on building school district capacity for social-emotional competency and crisis response. Educators throughout the state will be prepared to be first-line responders, providing a strong foundation for a sophisticated and sustainable system of behavioral health promotion in schools.
COVID Youth Response Board
The COVID Youth Response Board (CYRB), made up of 5–10 members, ages 14 to 25, has provided select Sacramento youth with opportunities to acquire leadership skills as they respond to community mental health, wellness, and social-emotional development needs related to the challenges presented by COVID-19.
Early Literacy Support Block Grant
Based on an established history of leadership and expertise in both literacy and early learning, SCOE was awarded $3,000,000 from the California Department of Education (CDE) to serve as the Early Literacy Support Block Grant expert lead. The goal is to develop and implement literacy instruction and support programs focused on early grades, improving student outcomes.
SCOE 21st Century California School Leadership Academy
The SCOE 21st Century California School Leadership Academy (SCOE 21CSLA) is designed to support leadership development and build the skills, knowledge, and capacity of the central office leaders, site leaders, and teacher leaders serving in the 14 counties located in the Placer-Sacramento Region. The three professional learning strands offered through the academy help leaders develop skills, knowledge, and capacity to lead that will help them meet the needs of all students, ultimately creating more equitable outcomes in the changing world of distance learning and hybrid learning.
Sly Park Environmental Education Center
 

Virtual Learning Program

In response to the COVID-19 pandemic, the Sly Park Environmental Education Center developed a variety of virtual resources to provide instruction and experiences. Their efforts enable students to better understand and care for their local environment. Sly Park staff adapted outdoor activities and provided students with access to virtual instruction that approximates the in-person experience at Sly Park.
USA Learns
USA Learns is a premier, free website that teaches English as a second language (ESL) to adults around the world. This highly popular resource utilizes thousands of multimedia elements, including video, audio, and images, resulting in an engaging and effective learning experience for students. It has both a learner site and a teacher site, making it a flexible educational tool for both independent learners and students enrolled in a class.