Early Learning Department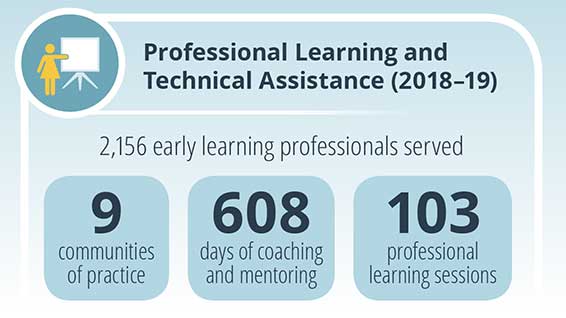 The Early Learning Department provides services to early learning program directors, leaders, and educators from county offices of education, school districts, preschools, and early learning programs in Sacramento County and the broader ten-county Capital Service Region. The department focuses on preparing young children for success in elementary school and beyond through the support of high-quality learning environments and opportunities. The department staff provides professional learning, on-site support, technical assistance, and resources to early childhood/school readiness administrators and staff. The department also facilitates communication and collaboration among early learning educators and providers.
Publications and Materials​​​​
"Sacramento County Early Learning Roadmap: Prenatal Through Age Eight"—a guide to help ensure that ALL children in Sacramento County have the opportunity to live, learn, and lead healthy lives. The result of a 15-month planning process involving 60 community partners that represent a broad range of stakeholders, the roadmap is intended to build momentum and garner support for our youngest learners.
Sacramento County Early Learning Website​—this site represents a collaborative vision and commitment to the growing needs of young children and families and the programs that serve them. The site provides a centralized portal to access research-based, innovative, promising practices and resources to support high-quality early care and education programs, school readiness, and seamless transitions to kindergarten. Private and public early childhood directors, teachers, family child care home providers, and school district administrators will find resources to build on and expand existing early learning services. The website also will connect parents with child development information and local resources to support their child's care and education.
Partners​
Early Learning Department Programs