California State Seal of Biliteracy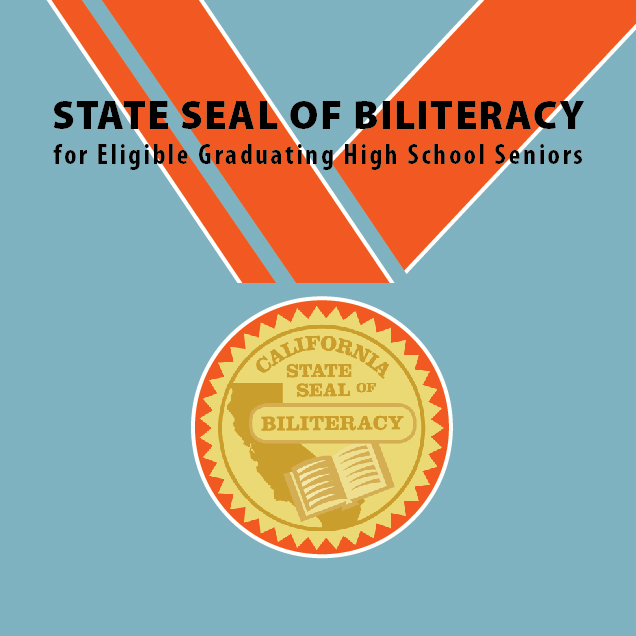 About the State Seal of Biliteracy
Assembly Bill 815 (effective 1/1/12) established the State Seal of Biliteracy for eligible high school seniors in California's public schools. This law lists all criteria that a student must meet in order to demonstrate that they have attained a high level of proficiency in speaking, reading, and writing in English and one or more languages.
Assembly Bill 1142 (effective 9/1/17) replaced the criteria to demonstrate English proficiency with the current English language arts standard assessment for California. It also updated the requirement for language acquisition assessments for English learners and oral proficiency for languages other than English.
Eligibility
In order to be eligible for the State Seal of Biliteracy, students must meet all of the following criteria:
Complete all English language arts requirements for graduation with an overall grade point average of 2.0 or above in those classes.

Pass the California standards assessment at the "standards met" or above in English language arts (ELA) set for native English speakers at the 11th grade.

Demonstrate proficiency in one or more languages—in addition to English—by accomplishing one of the following:

Score three or higher on an Advanced Placement (AP) foreign language examination.
Score four or higher on an International Baccalaureate foreign language examination.
Score of 600 or higher on the Scholastic Assessment Test II foreign language examination.
Score at the "proficient" level or higher on a school district language examination that, at a minimum, assesses speaking, reading, and writing in a language other than English.
Successfully complete a four-year high school course of study in a world (foreign) language and attain an overall grade point average of 3.0 or above in that course of study, including oral proficiency.
If students have a primary language other than English, they must meet the criteria in items 1–3 above and also obtain a score of 4 on the English Language Proficiency Assessments for California Development Test (ELPAC​).
SCOE Language Exams
The Sacramento County Office of Education (SCOE) offers a language exam option for students who have no language course or assessment offered at their school. SCOE's assessment process determines oral and written proficiency in the following languages: Arabic, Armenian, Chinese, Dari, Farsi, French, German, Hindi, Hmong, Japanese, Korean, Lao, Pashto, Punjabi, Romanian, Russian, Spanish, Tagalog, Turkish, Ukrainian, Urdu, and Vietnamese.
Resources​​​
Promotional Posters:
Student Participation Forms:
Recipient Recognition
Congratulations to all the students in Sacramento County who have earned the California State Seal of Biliteracy since the program launched for the 2012–13 school year!