Volunteers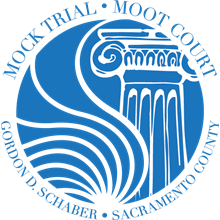 We Need Your Help for This Year's Competition!
The annual Gordon D. Schaber (GDS) Competition is an educational law program that helps youth develop knowledge and awareness of the judicial system and increases their understanding of courtroom procedures and the rule of law. Each year about 25 Sacramento area high schools participate in the Competition.
There are two ways that you can be involved and use your expertise in a courtroom setting to help budding "Perry Masons."
---
Serve as a Judge or Scoring Attorney
Volunteers are needed to serve as scoring attorneys and presiding judges for the Mock Trial and Moot Court Competitions. As a volunteer, you will sit in the jury box and score, or sit on the bench and preside, while students, acting as witnesses and lawyers, try an entire case in a timed exchange (Mock Trial), or present arguments to a panel of justices (Moot Court).
MOCK TRIAL & Moot Court DATES 2024:
Rounds will take place in person at the county courthouse.
Mock Trial & Moot Court Round 1 –– Thursday, January 25 • 5:30 - 9:30 PM
Mock Trial & Moot Court Round 2 –– Tuesday, January 30 • 5:30 - 9:30 PM
Mock Trial & Moot Court Round 3 –– Tuesday, February 6 • 5:30 - 9:30 PM
Mock Trial & Moot Court Round 4 –– Thursday, February 8 • 5:30 - 9:30 PM
Mock Trial Quarterfinals (top 8 teams) –– Saturday, February 10 • 8:30 - 11:30 AM
Mock Trial Semifinals (top 4 teams) –– Saturday, February 10 • 12:30 - 4:00 PM
Mock Trial Finals –– Thursday, February 16 • 4:45 – 7:30 PM 
2024 Mock Trial Case Brief - coming soon
2024 Moot Court Case - coming soon
Help as a School Attorney Coach
Attorney Coaches are needed to provide ongoing assistance and training in the rule of law and courtroom procedures, and to assist teams in developing their arguments for the Mock Trial and Moot Court competition. For more information or to volunteer as an attorney coach: